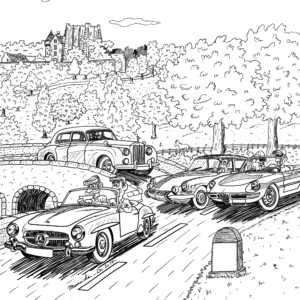 The SWEET TRIP has been organized since 2013 by Ledorga every year during a spring weekend. The goal of this event is to quietly discover an area of France, at your own pace and calmly. During the weekend, no contest of elegance or games, just beautiful drive in the countryside on nice roads.
Culture is not neglected, and of course the tour is punctuated by stops to discover a village, a monument, a nice view of the area, a house or historic monument. Of course, the culinary specialties of the area of destination such as wines or cheeses are not forgotten.
The slogan of this weekend is: discover France quietly, drive in your classic car and enjoy the good times.
---
Sweet Trip 2023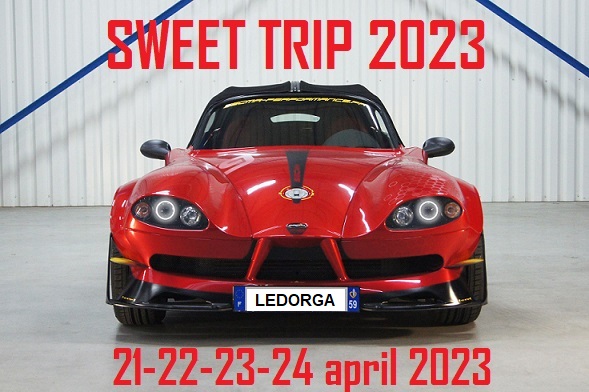 21 – 22 – 23 – 24 April 2023
Location : Valenciennes
Activities :
3 nights at the hotel Novotel Valenciennes ****
visit of SECMA company
visit of the "Godin familistère"
visit of the "brasserie des légendes" (legendary brewery)
visit of the Mahymobiles Automobile Museum in Leuze en Hainaut
---
Sweet Trip 2022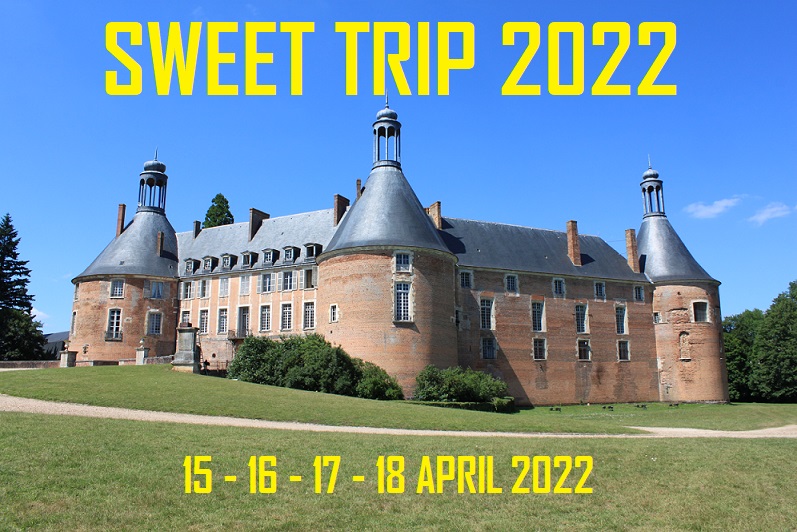 From Arpril the 15th to the 18th 2022
Location : Yonne department
Activities :
3 nights at the Mercure Auxerre Nord ****
Guided tour and tasting of the Bailly Lapierre cellar
Free tour of the castle and park of Ancy le Franc & tasting of Chablis wines
Free tour of the Atelier Bernasse museum
Guided tour of the castle of Saint Fargeau
Free tour of the Sport Auto Museum
Sweet Trip 2019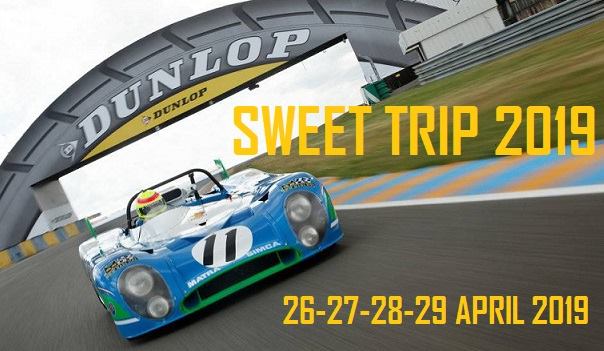 From Arpril the 26th to the 29th 2019
Location : Le Mans
Activities :
Guided tour of the earthenware factory & Free visit of the earthenware museum in Malicorne
Free visit of the castle, the garden and the vegetable garden of the Lude castle
Free visit of the 24h museum & free visit of the circuit installations
Stop at Courtanvaux castle
Guided tour and tasting wines at Domaine Lelais in Ruillé sur Loir
---
---
Sweet Trip 2018 :
From March the 30th to April the 2d 2018
Location : Compiègnes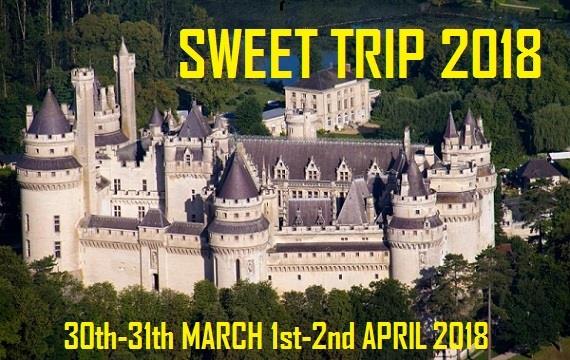 Activities :
Free visit of Pierrefonds castle
Quick stop to see the medieval tower of Ambleny
Guided tour of W2 – Wolfsschlucht 2 (Hitler's secret command center)
Free visi of Royaumont Abbey
Free visit of the Château de Troissereux
---
Sweet Trip 2017 :

From April the 14th to the 17th 2017
Location : Orléans
Activities :
Free visit of Sully s / Loire castle
Free visit of La Bussière castle
Stop and explore the Briare canal bridge in Saint Firmin s / Loire
Free visit of the Matra space in Romorantin-Lanthenay
Free visit of the Valencay Automobile Museum
Route via the Domaine de Chambord
---
Sweet Trip 2016 :
From March the 25th to the 28th 2016
Location : Reims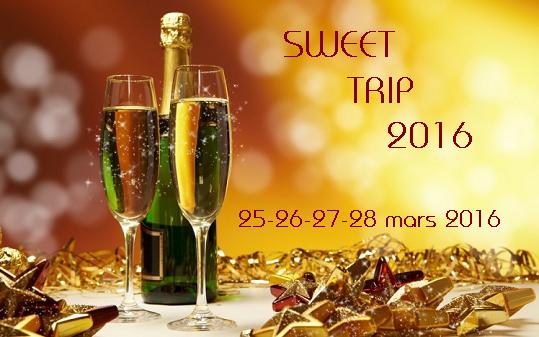 Activities :
Guided tour of the Mercier cellars and Champagne tasting
Guided tour of Réveillon castle
Free visit of the Reims Automobile Museum
Free visit of the installations of the old circuit of Reims – Gueux
Free visit of the ruins of Frère en Tardenois castle
---
Sweet Trip 2015 :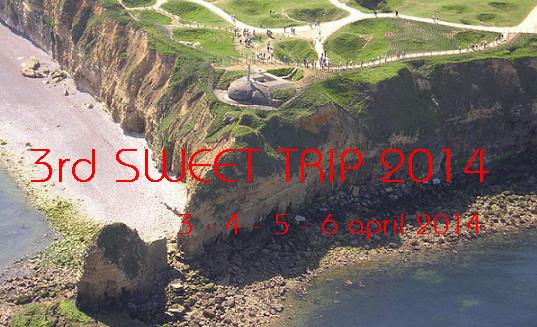 From April the 3rd to the 4th 2014
Location : Caen
Activities :
Guided tour of the Graindorge cheese factory and cheese tasting
Free visit of the Château de Vendeuvre
Visit of the Clécy miniature train
Guided tour of Balleroy castle and museum
Stop at Pointe du Hoc and free visit
American cemetery of Colleville sur mer
Free visit of the Longues sur mer battery
---
Sweet Trip 2014 :
From April the 18th to the 21st 2014
Location : Chartes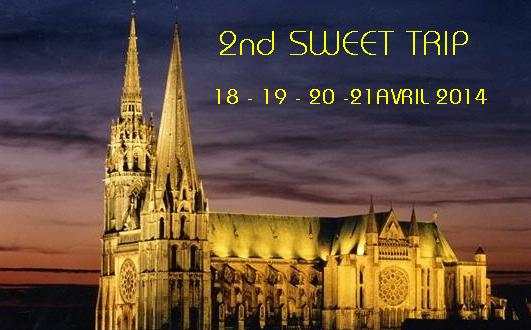 Activities :
Visit of the small automobile museum of Dreux
Visit of Anet castle
Free visit of the ruins of Ivry la Bataille castle
Stop at Ferté Vidame: castle ruins & glasses in a bar
Visit of the traditional Perche cider house in Theil
Guided tour of the Château de Villebon
---
Sweet Trip 2013 :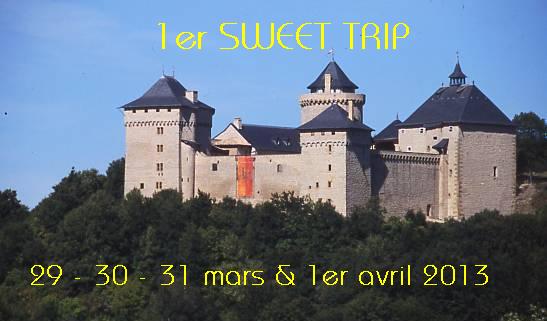 From March the 29th to April the 1st 2013
Location : Metz
Activities :
Visit of the city of Rodemack,
Visit of Fort Hackenberg
Tasting of regional products (wines, cheeses & cold meats)
Discovery of the Monsoon hill and the castle ruins
Visit of the Lorraine automobile museum in Velaine en Haye
Stop at the Monsec hill for the panorama and the American monument
Free tour of Hattonchatel